KN95 Protective Face Mask (FDA Registered, GB2626-2006), Safety Face Mask, Air Filtration Anti Dust Mask, Disposable Particulate Filtering Mask (30-Count)
Connexions
2020-11-05
2578
30pcs of disposable KN95 face masks. FDA Registered Class 1, Chinese Standard KN95 GB2626-2006.
New 6-ply design, composed of 45gsm Spunbond PP Non-Woven + 25gsm Spunbond PP Non-Woven + 25gsm BFE99 Meltblown Non-Woven + 25gsm Hot Air-Flow Cotton Non-Woven + 25gsm BFE99 Meltblown Non-Woven + 45gsm Skin Friendly PP Non-Woven.
Distributed by Common Lane, Setchey, King's Lynn, Norfolk, PE33 0AT, UK. Manufactured in China by Connexions Technology Dongguan Co.,Ltd
Particulate filtering protective face mask for at least 95 percent filtration efficiency against certain non-oil based particles. Comfortable, light-weight weight respirator mask with earloops and adjustable nosepiece for secure fit and seal.
Ideal for use in the following industries: Commercial Buildings, Design & Construction, Food Processing, Food Safety, General Manufacturing, Heavy Infrastructure, Mining, Oil & Gas, Transportation.
If you were wondering where to buy KN95 masks, you have arrived at the right place.
Belowing FDA certificate for your checking: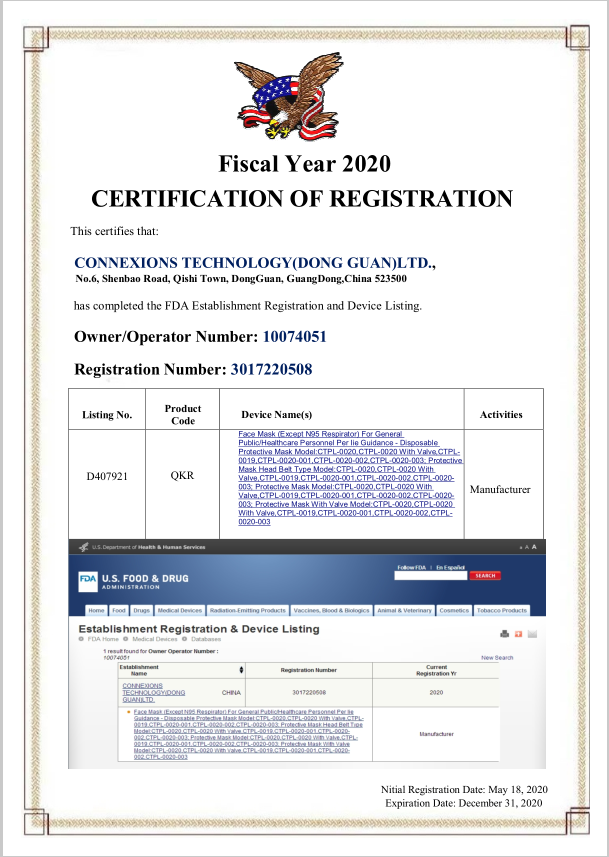 Learn more at : https://img.connexions-tech.com/honor-and-certificate
CONTACT US


Connexions Technology (Dongguan) Ltd.
We are always providing our customers with reliable products and considerate services.
If you would like to keep touch with us directly, please go to contact us