White 5 Layers FFP2 Disposable Face Mask with Valve
PRODUCTS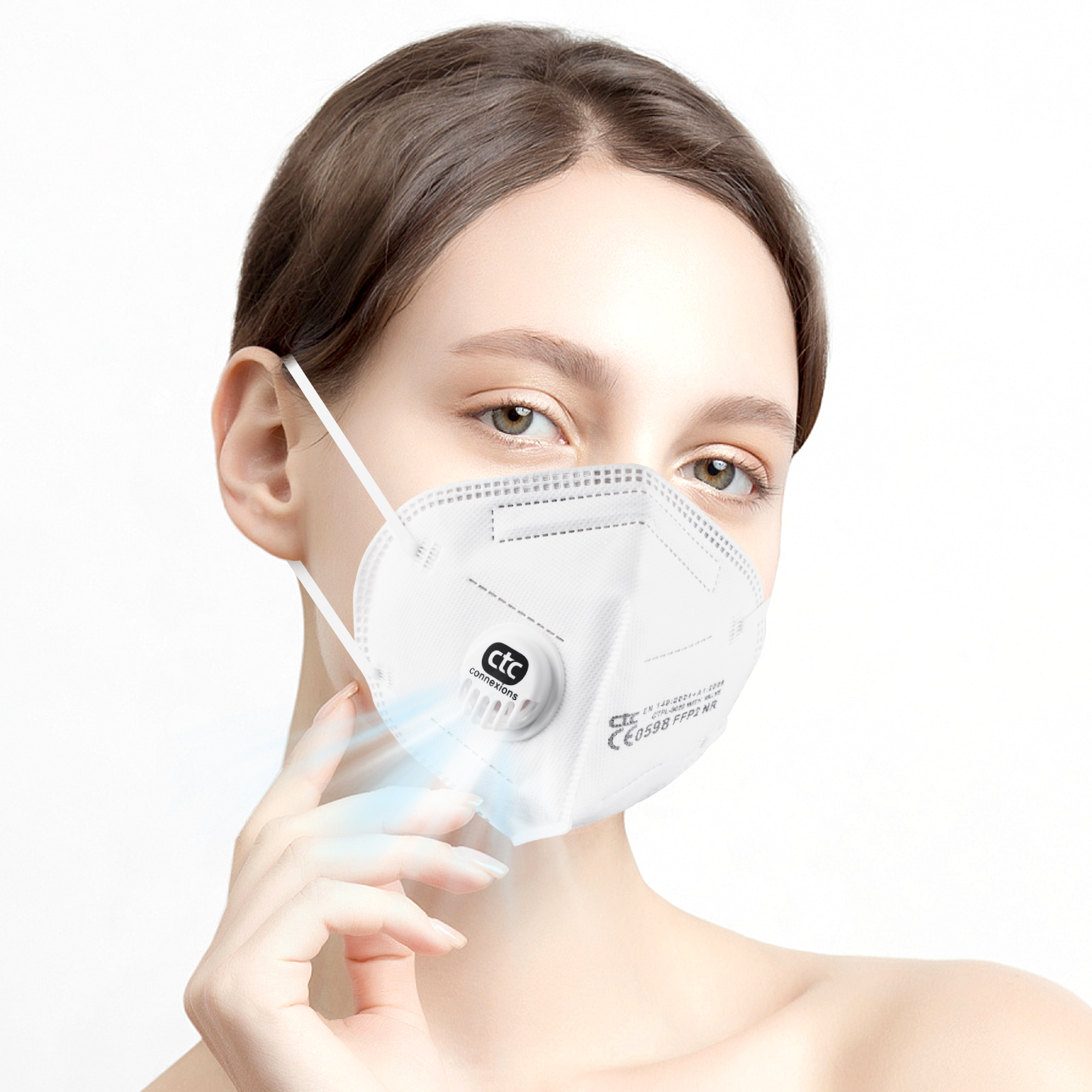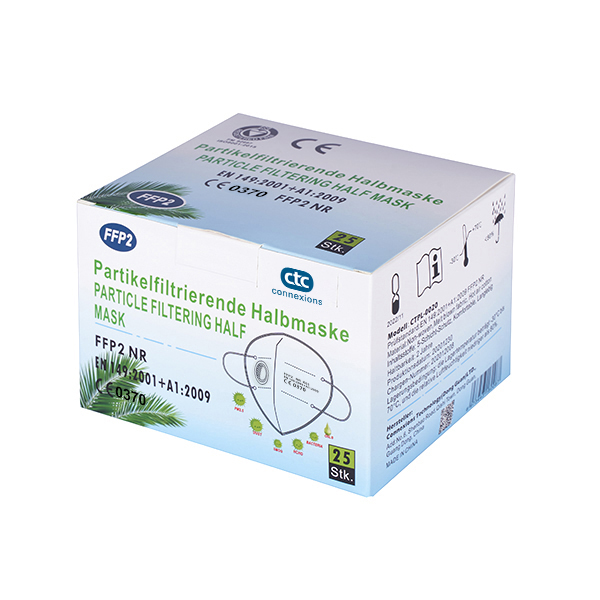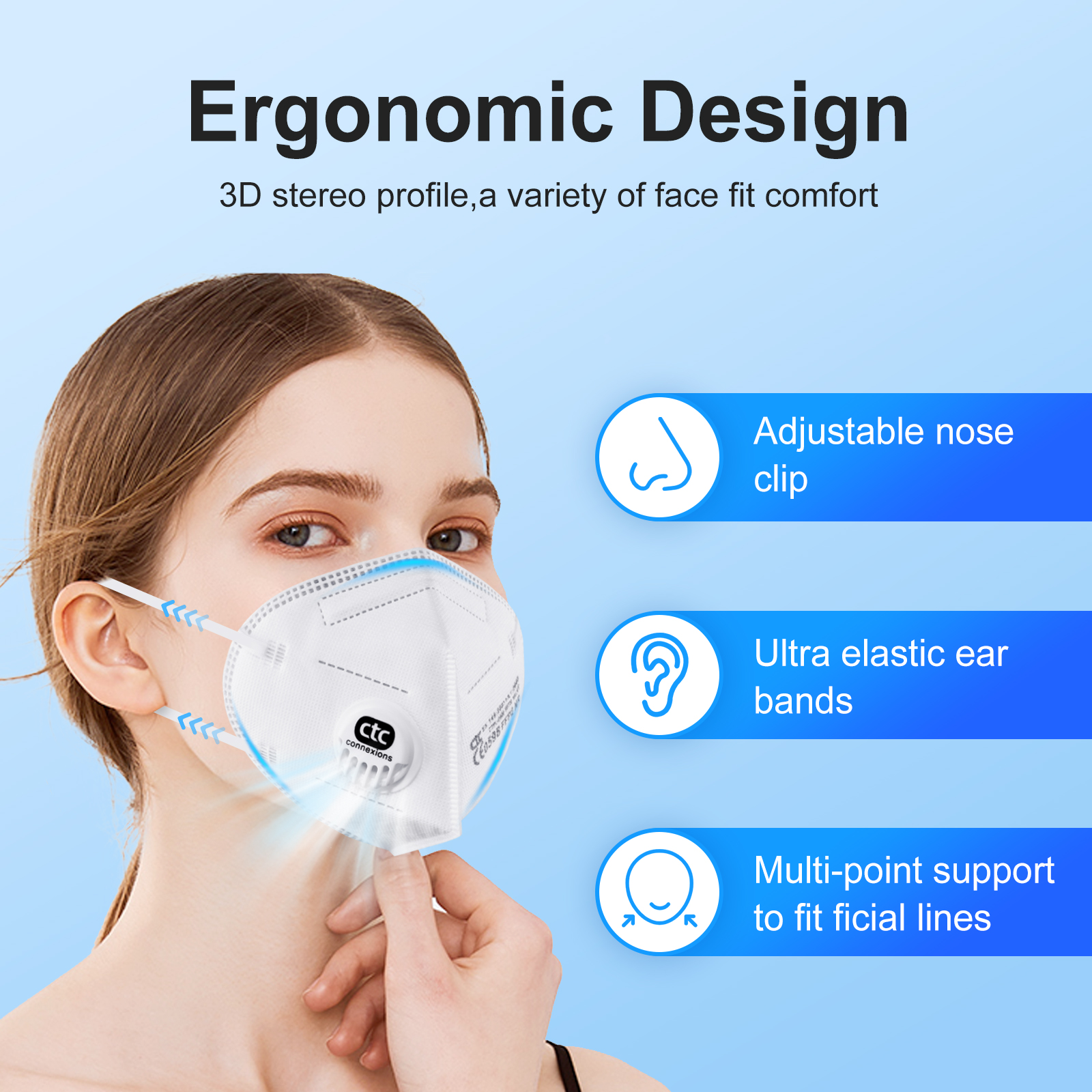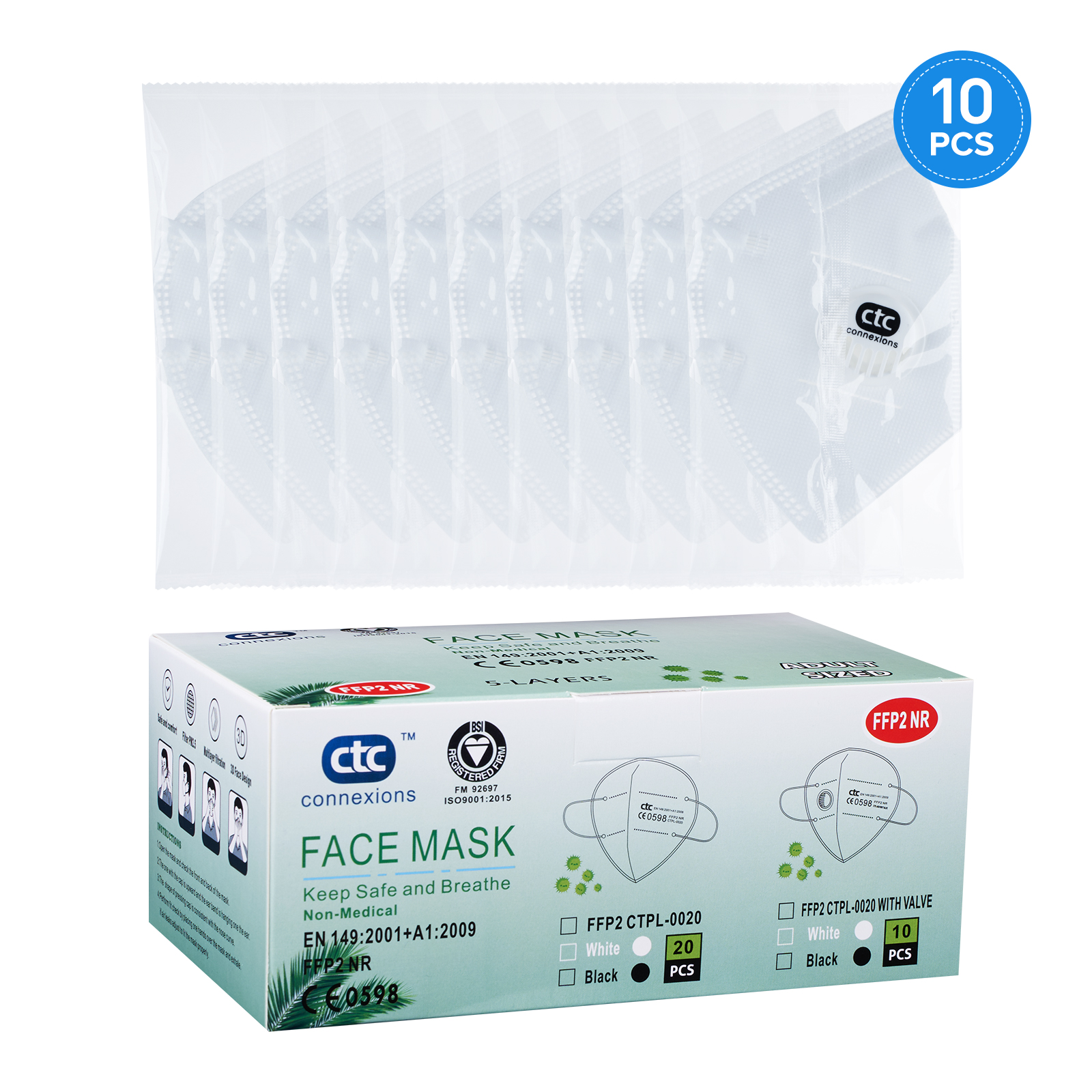 White 5 Layers FFP2 Disposable Face Mask with Valve
description:
Model: CTPL-0020 With Valve
Product specification: 16*10.2CM
Product feature: 5 layer protection, double layer melt-blown fabric
Daily Output: 400,000 pcs
Carton Size: 59*50*405cm
Packing : 1 pcs/bag, 10 pcs/box, 800pcs /carton
GW: 16kg
Storage condition: storage temperature is -30℃~+70℃ and the relative humidity is lower than 80%
Certification: CE FDA SGS
Expiration date: 3 years
1. FFP2 face masks offer a moderate level of protection against hazardous mists, particulates, and fumes.
Exhalation valves are more common in FFP2 masks as there is greater breathing resistance. Exhalation valves also help to reduce the build-up of heat inside the safety mask, improving the comfort of the wearer. it protects against brake dust, cotton dust, granite dust, hay, lead dust and fume, and softwood dust.
FFP2 respirator masks are made for working environments in which deleterious and mutagenic particles can be found in breathing air. They are most commonly used in the metal and mining industry. Without conformant safety face masks, workers exposed to the above hazards can develop lung cancer and Tuberculosis (TB).
2. Fold design offers portability. Enhanced length shields different faces.
3. Multi layers of non-woven material and filter media ensure the softness and feasibility.
4. Exhalation valve makes breathing easier.
5. Harnesses made of the elastic band; nose clip made of steel wires wrapped by PP.
6. All our respirators are in accordance with CE0598 EN149:2001 & A1: 2009
Product Name

CE quality FFP2 respirator mask with valve

Material

Non-woven, soft cotton, melt blown filter

Feature

Adjustable nose piece, Elastic earloop,5 layer mask

Function

ordinary use,non-medical use,

anti-virus / prevent flu / anti somke / dust

valve

ffp2 mask with ear-loop and valve

Size

16*10.2CM

Weight

5G

Certification

CEEN149: 2001 + A1: 2009 FDA

CE0598 / SGS

GB2626-2019 / ISO 9001:2015
Product Details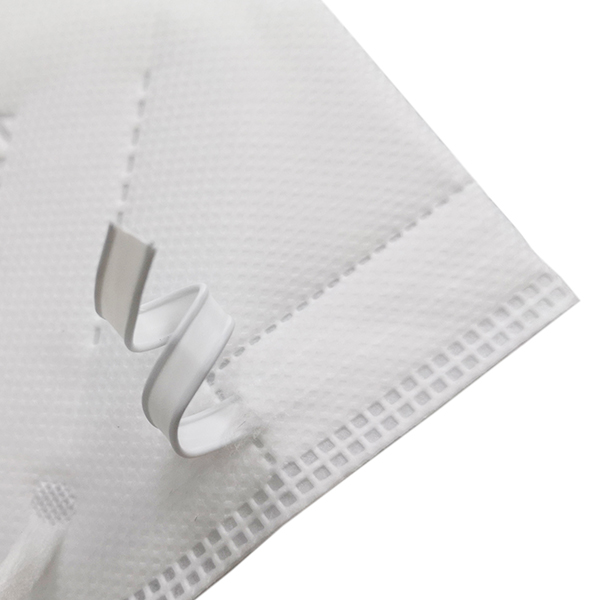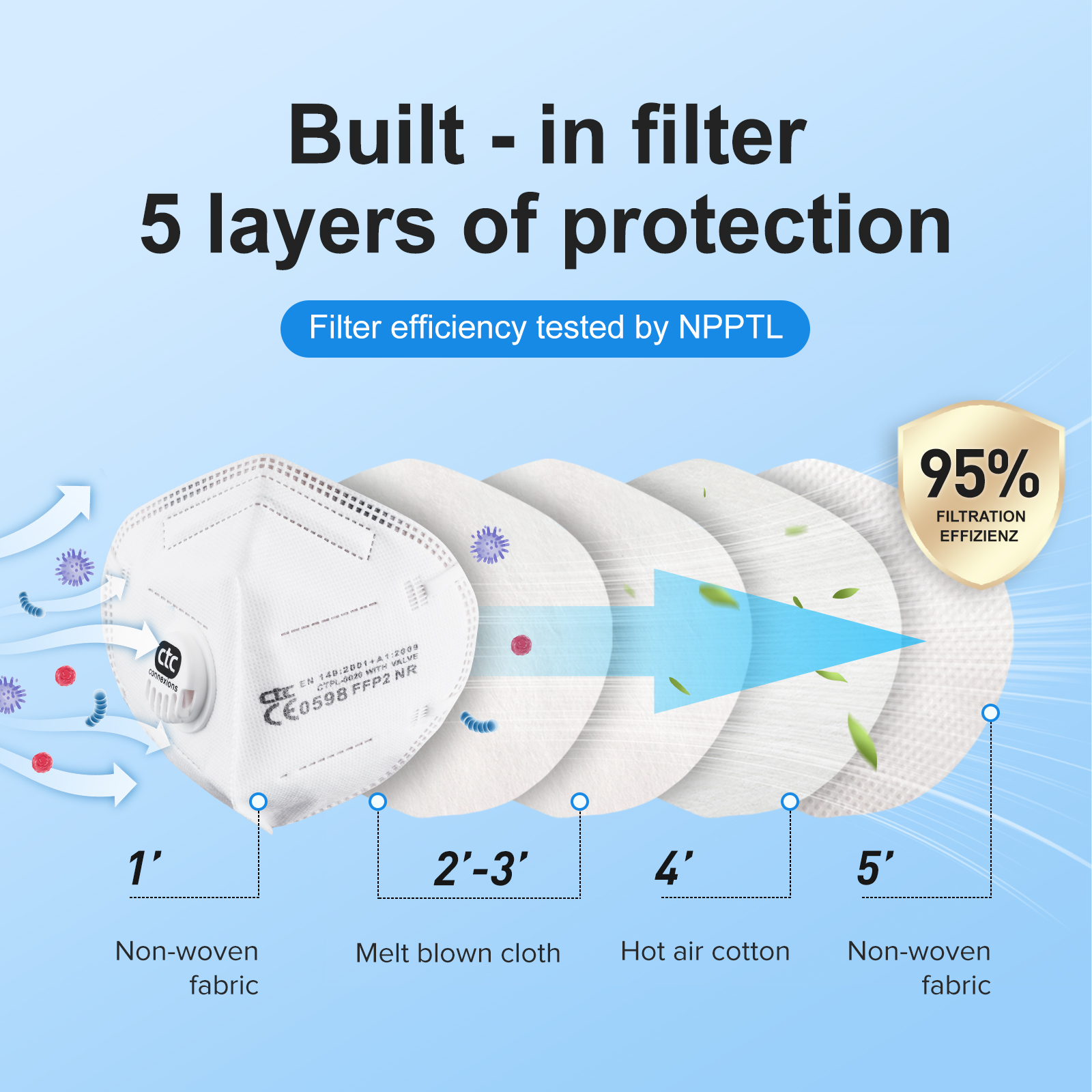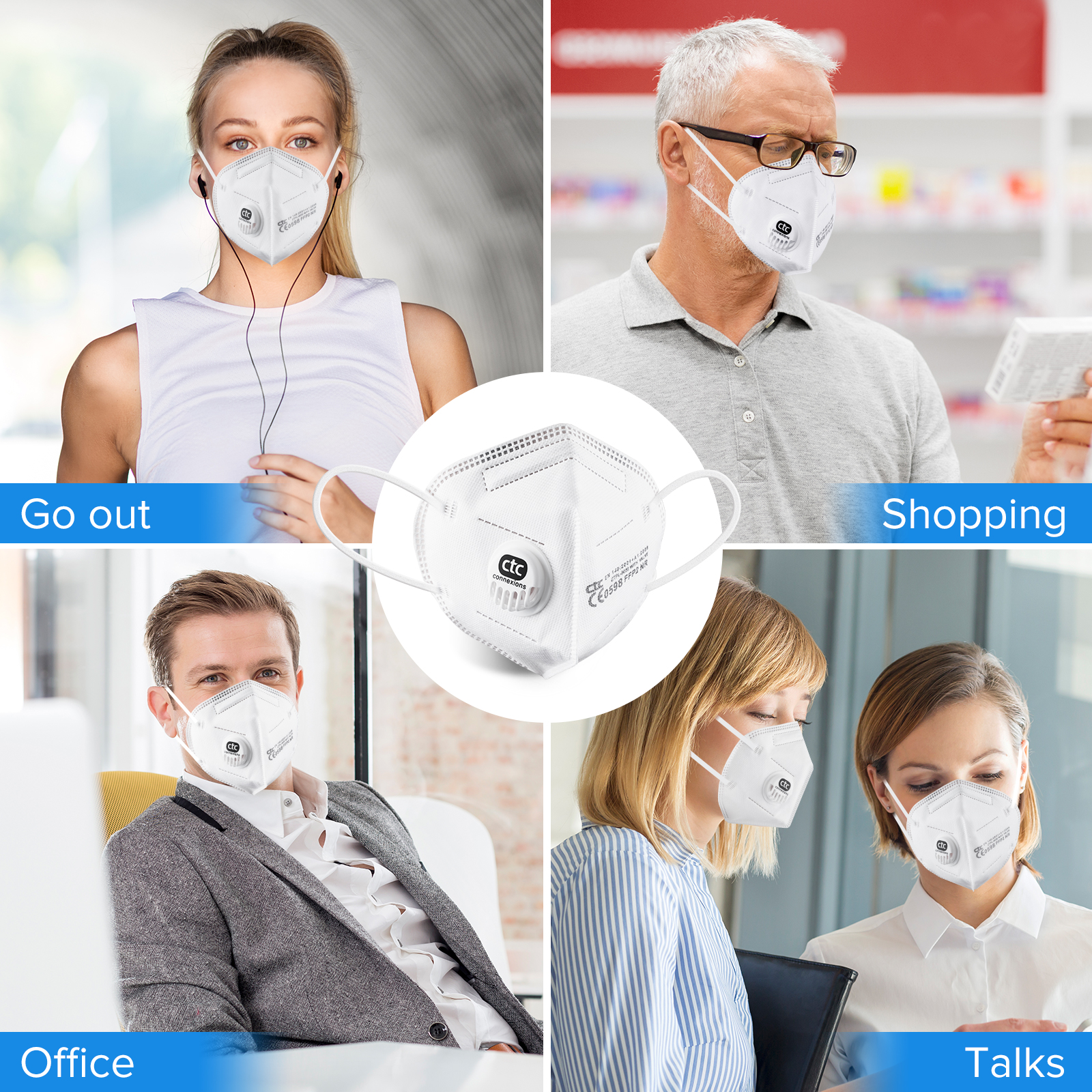 - Not for children
- Should be stored in a cool and dry place
- Should be used immediately once removed from the bag and should not be placed on any dirty surface
- Should never be used if it is visibly damaged or contaminated
- Should not be used more than once
- Should be disposed of away properly after 1 use
- It does not cure any medical conditions; it is intended to be used as a means of protection and prevention only
1. Failure to follow all instructions and limitations on the use of this product, or failure to achieve a proper fit, may result in damage to your health or death or will not provide the expected level of protection.
2. This product does not supply oxygen. Use only in adequately ventilated areas containing sufficient oxygen to support life. Do not use this respirator when the oxygen concentration is less than 19.5%.
3. Do not use when concentrations of contaminants are immediately dangerous to health or life. Do not use this product in an explosive atmosphere.
4. Facial hair, beards, and certain facial characteristics may reduce the effectiveness of this respirator.
5. "NR" means non-reusable, this particle filtering half mask shall not be used for more than one shift. The length of time this respirator can be used depends on contaminants present but should not exceed one shift. The respirator should be replaced sooner if breathing becomes difficult.
6. Respirator should be discarded after use or when it becomes damaged or deformed in any way; no longer forms an effective seal to the face; becomes wet or visibly dirty; breathing becomes difficult.
7. The respirators must be stored and transported in their original package and protected by the storage temperature and humidity as suggested by the manufacturer.
We're a China factory with ISO, specialized in the production of 5 layers of protective FFP2 masks and disposable masks, children masks, and protective masks.
It is equipped with 14 facemask production all-in-one machines and related supporting sealing machines and other production equipment. It is equipped with inspection equipment and personnel matching the technical requirements of the products.
1. Nine production lines of FFP2 protective masks, with a daily capacity of 500,000.
2. There are 5 production lines of planar masks, with a daily capacity of 800,000.
If you need more information on our company profile and production video, please check this link on the website.
Check prior to use--The respirator must be selected properly for the intended application. An individual risk assessment must be evaluated. Check the respirator that it is undamaged with no visible.
1. Open the mask and check the front and back of the mask.
2. The one with the cap is upward and the ear band is hanging on the ear.
3. The shape of the pressing cap is consistent with the nose curve.
4. Perform fit check place hands over the mask and exhale if air leaks, and adjust to the right position.
ISO 9001: 2015 Certified: It sets a global standard for Quality Management Systems and ensures their efficiency for products, services, and international supply chains. It embodies the best practices of Quality Management and Quality certification.
The requirements of EU Regulation (EU) 2016/425 for Personal Protective Equipment meet the requirements of European standard EN149: 2001 + A1: 2009.
Non-medical: Filter Efficiency 94%; Allocated Protection Factor (FPA) is 10, Examples of applications are Sanding of softwood, composite materials, rust, putty, plaster, plastics/cutting, deburring, grinding, drilling of metal.
If you want to learn more about CE / SGS reports and certification, please click the logo below.
CONTACT US


Connexions Technology (Dongguan) Ltd.
We are always providing our customers with reliable products and considerate services.
If you would like to keep touch with us directly, please go to contact us