Large Room Wooden Air Purifier With Filter (Mahogany Finish) XR500-M
PRODUCTS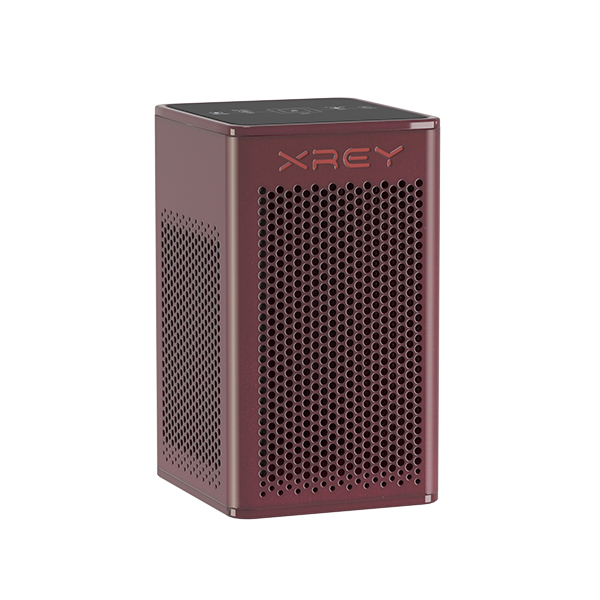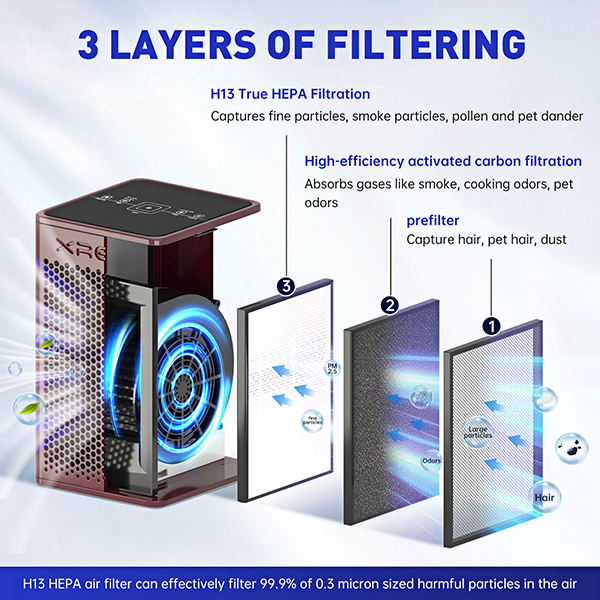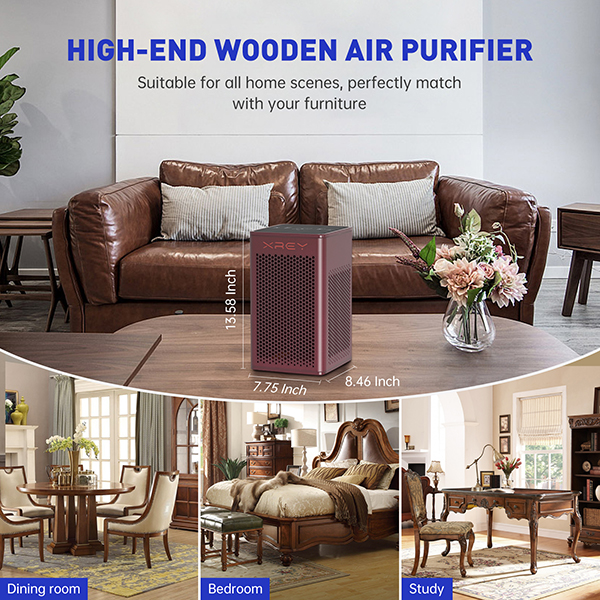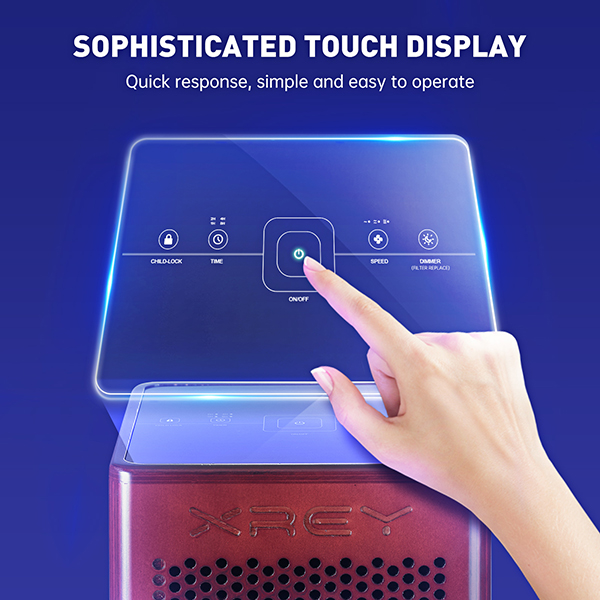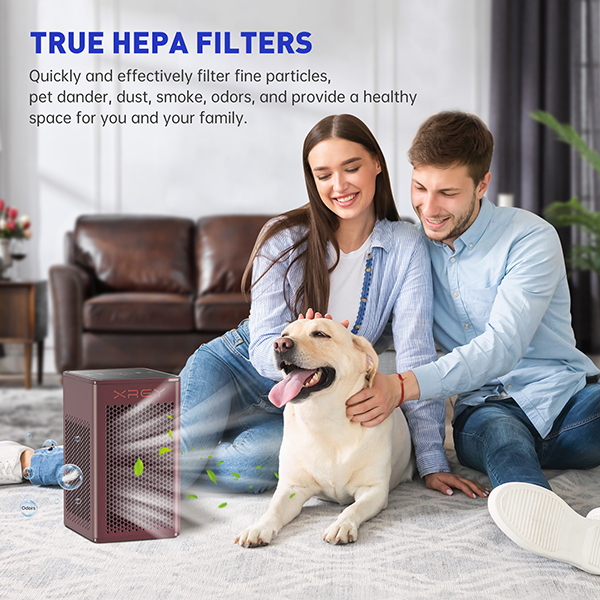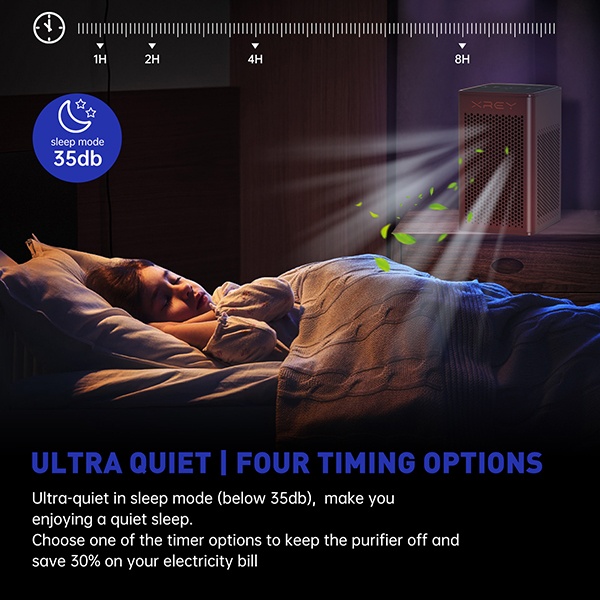 Large Room Wooden Air Purifier With Filter (Mahogany Finish) XR500-M
description:
• Model: XR500-M
• Product Dimension: 7.75InchW X 8.46InchD X 13.58InchH
• Material: >80% Wood, Minor Plastic
• Voltage: 110-240V
• Clean Air Delivery Rate (CADR): 250m³/ h
• Application Area: 30m2/ 500Ft2
• Air Intake: dual intakes
• Out of The Wind: 120°
• Certificates: ETL, FCC, ROHS, UKCA, CE
• H13 Filter Usage: 2500 hours
• Box Size: 243 * 262 * 406mm
• Carton Size: 20.5 x 22.4 x 17.7 inch
• GW: 18.5KG
• NW: 17.96kg
• Qty / Ctn: 4PCS
1. The large room air purifier with filter has the most eco-friendly air purifier system.
2. Unique design of the large room air purifier with high-end wood material in classic mahogany finish.
3. Large room air purifier with filter has an excellent purification effect with a dual air intake system
4. H13 True Hepa Filter with 3-layer powerful filtration system
5. The large room air purifier with filter is ultra-quiet and easy operation.
6. Air purifier with filter is ideal for bedroom, office, dining room, and study room. Perfectly match your furniture and home scenes.
Eco Air Purifier: XREY has created an eco-friendly air purifier with a unique design. Made of sustainable wood with a classic mahogany finish instead of the unfriendly and odorous plastic material commonly found in the market. Not only does it purify the air, but it can easily match your wooden furniture as a decoration.
High Performance: with a CADR of 250 m3/h, the XR500-W air purifier can effectively purify a space of 500 SQFT/46 SQMT 2 times per hour and 219 SQFT/20 SQMT 5 times per hour. Perfect for home, apartment, bedroom, living room, office, school, university, classroom, hospital, or dining room.
HEPA H13 Filtration: XREY air purifier is equipped with a 3-layer filtration system with an H13 HEPA filter and high-efficiency activated carbon. It can effectively filter 99.9% of harmful particles such as dust, pet hair, and smoke. Sizes as small as 0.1 microns, and capture finer particles than HEPA H11 (0.3 microns). Activated carbon effectively absorbs smoke and odors from the air.
Ultra-quiet (sleep mode): XREY HEPA air purifier has 3-speed adjustments, using an upgraded brushless motor. The noise in the lowest mode is only 35db. While purifying your air, it does not affect your work, study, or sleep.
Easy Operation: XREY air purifier comes with 4 timer options (1H/2H/4H/8H), 3 levels of fan speed, sleep mode, filter replace indicator, and child lock function. When the purifier has been used for more than 2500 hours, the Filter Replace indicator will turn red to remind you to replace it. For the health of you and your family, we recommend that you replace the filter element every 4-6 months for optimal use.
Product Dimension: 7.75InchW X 8.46InchD X 13.58InchH
Safety Instructions:
When using electrical products, especially when children are present, basic safety precautions should always be followed. Read all instruction manuals before using them.
Certified with ISO9001-2015 quality system
Meet USA/EU/UK/ Standard
ETL, FCC & ROHS compliant
Meet California ozone emissions limit.
CARB certified.
Meet CE-EMC & CE-LVD Standard
Meet UKCA-EMC & UKCA-LVD Standard
CONTACT US


Connexions Technology (Dongguan) Ltd.
We are always providing our customers with reliable products and considerate services.
If you would like to keep touch with us directly, please go to contact us