Tie-dye KN95 Protective Face Mask For Children
PRODUCTS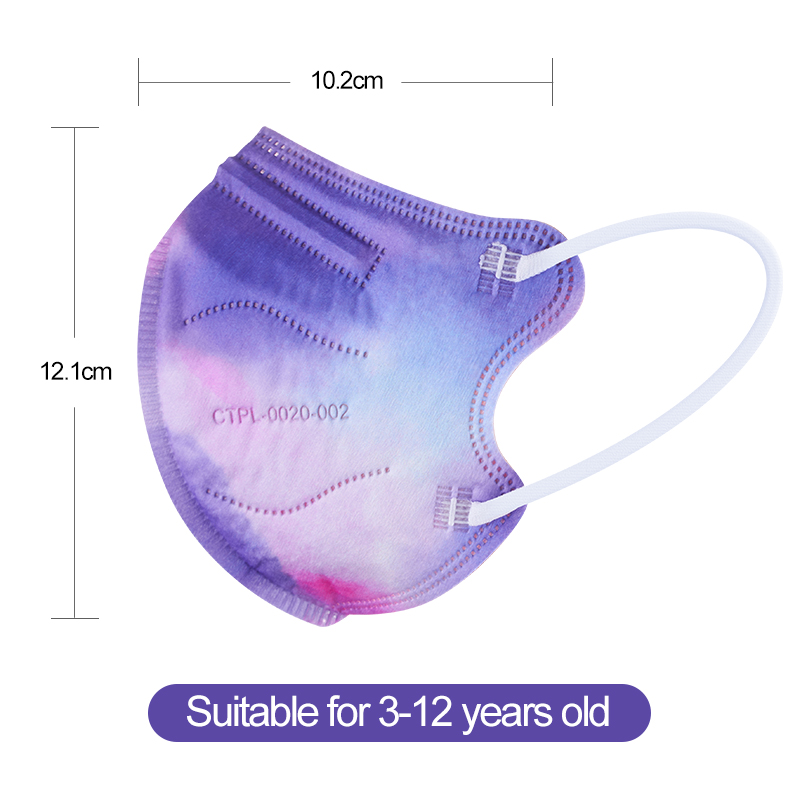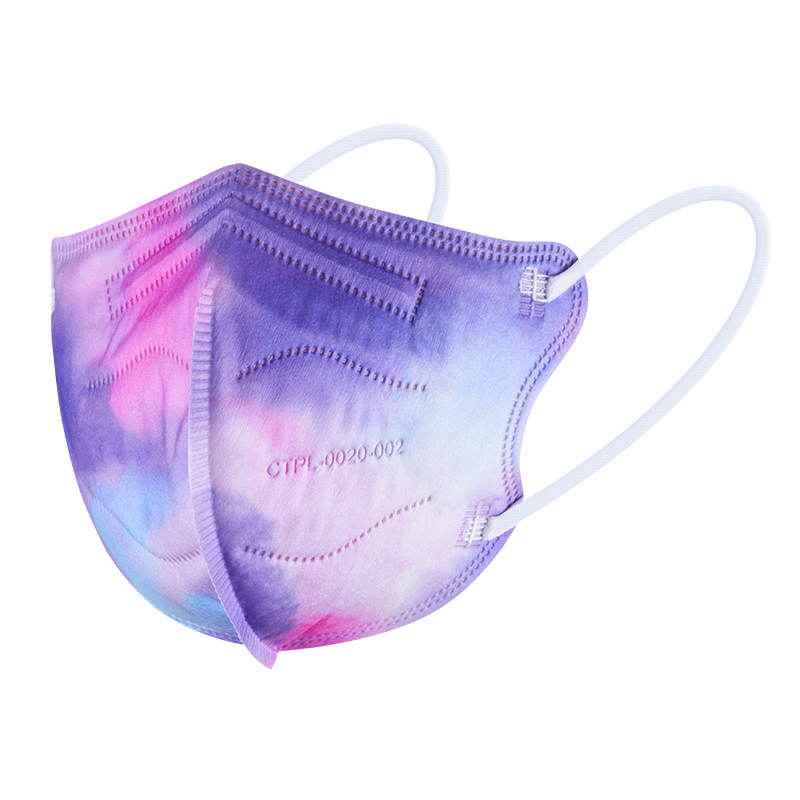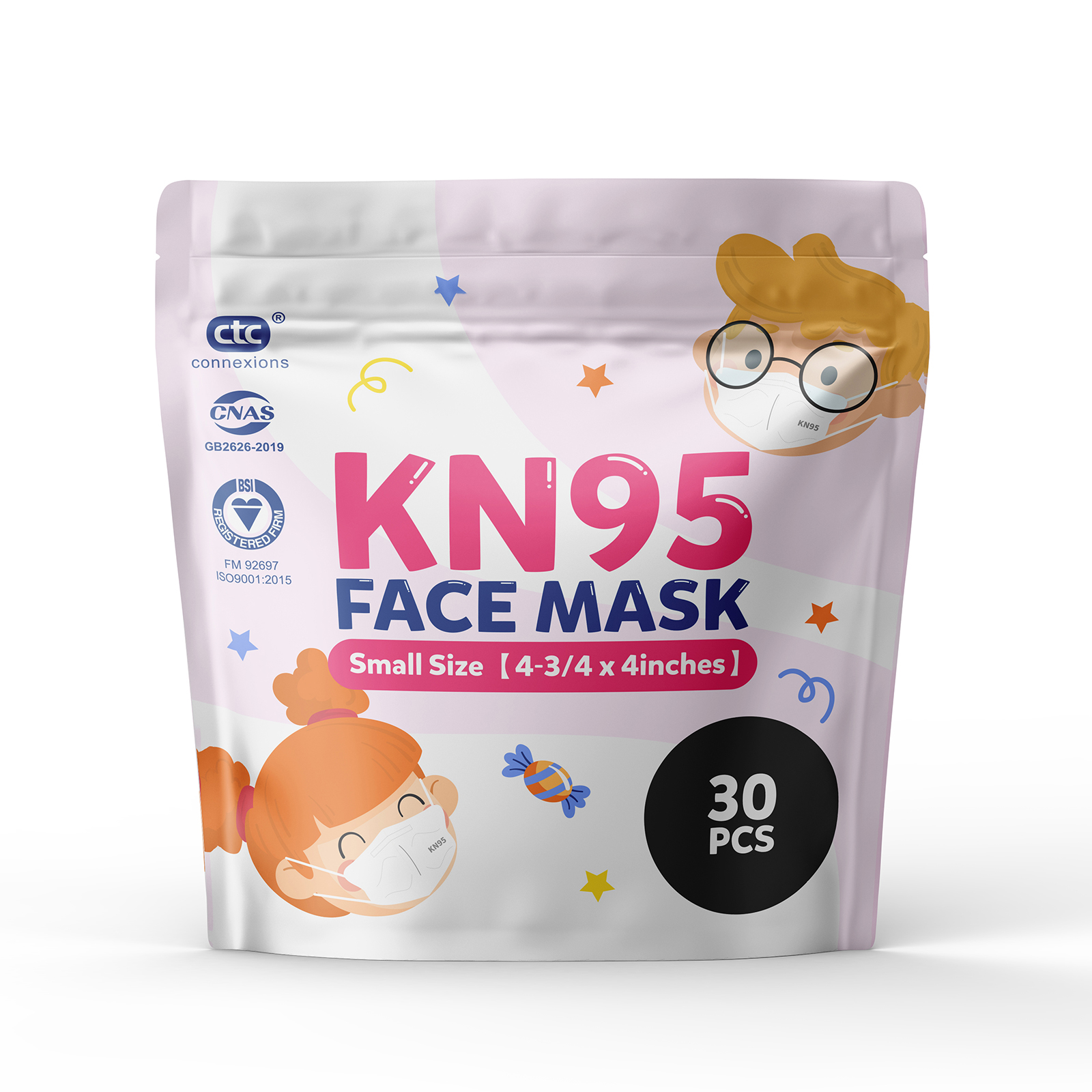 Tie-dye KN95 Protective Face Mask For Children
description:
Model: CTPL-0020-002
Product specification: 12.1*10.2CM
Certification: SGS, GB2626-2019
Product feature: 5 layer protection, double layer melt-blown fabric
Packing : 30 pcs/box, 2000pcs /carton
GW: 15KG NW: 13.5KG
Storage condition: storage temperature is -30℃~+70℃ and the relative humidity is lower than 80%
Expiration date: 2 years
IExecutive Standard: GB2626-2019
Ingredients: Non-woven, Melt blown fabric, Hot air cotton
Feature: 5-layer Protective, Comfortable, Durable
Size: 12.5 * 10.6CM
Storage Condition: The storage temperature is -30℃ to 70℃, and the relative humidity is lower than 80%
Package List: Individual packing
Features:
1. Colorful cartoon characters on the mask
2. Safe and comfortable
3. 5-layers filtration
4. Filter PM2.5
5. 3D face Design
Wide application for children Who:
--Are immuno-compromised
--Have flu-like symptoms
--Are visiting hospital patients
Notes:
① Please allowed 1-3mm differences due to manual measurement, thank you for your understanding!
② Due to the difference between different monitors, please understand that the picture may not reflect the actual color of the item.
Child-sized to efficiently fit smaller faces. If you are looking for a kids face mask which can offer more protection than a surgical mask or ordinary disposable mask, then our KN95 mask for kids with earloop would be your best choice. It's cute, protective(BFE≥95%), comfortable, safe and easy to use.
Make sure to handle mask with clean hands.
1. Adjust ear loops behind ears.
2. Place mask over nose and mouth. The wider part of the mask is the top and the narrower part is the bottom.
3. Press down the nose clip (the wired region) on the top of the mask to secure fit and seal any gaps.
4. If you need to reuse the mask, make sure to store in a clean, dry, hygienic place.
5. Replace frequently.
1. The wearer must properly fit and test before using this respirator.
2. Do not use this respirator when concentrations of contaminants are immediately dangerous to life or health.
3. Leave the contaminated area immediately if breathing becomes difficult, or dizziness or other distress occurs.
4. Discard and replace respirator if it becomes damaged , moist or breathing resistance becomes excessive.
5. Inspect respirator before each use to ensure it is in good working condition. Examine all the respirator parts for signs of damage including the two straps and nose clip and valve.
6. Do not alter, wash, abuse or misuse this respirator.
7. Do not use with beards or heavy facial hair or other conditions that prevent a good seal between the face and the sealing edge of the respirator.
8. Make sure the respirator in not crushed or squeezed by an outside force, as this may result in the deformation and damage of the respirator.
9. Maximum operating temperature: +50 degree Celsius.
10. Care should be taken when using the respirator at low temperatures as excessive moisture may cause valves to freeze.
11. This respirator contains no components made from natural rubber latex.
We're China factory with ISO, specialized in the production of 5 layers of protective KN95 masks and disposable masks, children masks, protective masks.
It is equipped with 14 facemask production all-in-one machines and related supporting sealing machines and other production equipment. It is equipped with inspection equipment and personnel matching the technical requirements of the products.
1. Nine production lines of KN95 protective masks, with a daily capacity of 500,000.
2. There are 5 production lines of planar masks, with a daily capacity of 800,000.
If you need more information of our company profile and production video, please check, on this link on website.
ISO 9001: 2015 Certified: It sets a global standard for Quality Management Systems and ensures their efficiency for products, services, and international supply chains. It embodies the best practices of Quality Management and Quality certification.
CONTACT US


Connexions Technology (Dongguan) Ltd.
We are always providing our customers with reliable products and considerate services.
If you would like to keep touch with us directly, please go to contact us